Current News
Am 29.04.2019 fand die feierliche Benennung der Marianne-Schminder-Gastprofessur mit Teildenomination Geschlechterforschung im Rahmen der Antrittsvorlesung von Gast-Prof. Dr. Andrea Wolffram als erste Inhaberin der Marianne-Schminder-Gastprofessur zum Thema "Vom Genderblitz getroffen - Zur Bedeutung der sozialen Kategorie Geschlecht in soziotechnischen Dynamiken" an der OVGU statt. Zur Feierlichen Benennung der Professur hielt Historikerin, Dr. Steffi Kaltenborn, einen Kurzvortrag zu Leben und Werk von Marianne Schminder, Profesorin für Nichtmetallische Werkstoffe in den Ingenieurwissenschaften der Technischen Hochschule Magdeburg (ab 1961).
Am 21.01.2019 wird die Antrittsvorlesung von Prof. Dr. Elena Azanon stattfinden, wozu noch gesondert eingeladen wird. Frau Azanon ist seit Mai 2018 die derzeitige Inhaberin der Dorothea-Erxleben-Gastprofessur der Otto-von-Guericke-Universität Magdeburg. Die Dorothea-Erxleben-Professur dient als wichtiges Instrument zur Steigerung der Wettbewerbsfähigkeit und Attraktivität der OVGU.


Am 26.09.2018 fand die Würdigung der wieder gewählten, die Verabschiedung der ausscheidenden und die Begrüßung der neu gewählten Gleichstellungsbeauftragten auf zentraler Ebene, in den Fakultäten, in der Verwaltung und den zentralen Einrichtungen im Tagungsraum der Universitätsbibliothek statt. Die Prorektorin für Forschung, Technologie und Chancengleichheit, Prof. Monika Brunner-Weinzierl, hat den Beauftragten für Ihren Einsatz und Ihr Engagement in der Gleichstellungsarbeit gedankt.





Macht Geschlecht den Unterschied?
In der medizinischen Praxis wird Geschlecht häufig eher unbewusst wahrgenommen, obwohl es einen oft entscheidenden Einfluss auf das professionelle Handeln im Versorgungssystem haben kann. Deshalb ist es wichtig, die sozialen Mechanismen von Geschlecht bereits im Medizinstudium einmal genauer zu beleuchten und angehende Ärzt*innen für diese soziale Kategorie zu sensibilisieren. Vor diesem Hintergrund haben sich Medizinstudierende des zweiten Semesters während eines Praktikums im Studienfach "Medizinische Soziologie" unter leitung von Julia Piel im Sommersemester in insgesamt 8 Projekten mit Zusammenhängen von Medizin, Gesundheit und Geschlecht auseinandergesetzt. Die Ergebnisse ihrer Projekte stellten sie am 12. Juli 2018 im Foyer der Mensa auf dem Medizincampus im Rahmen eines interaktiven Glossars vor.



Philosophinnen-Ausstellung
Die Ausstellung Philosophinnen zeigt den Beitrag von Philosophinnen von der Antike bis zur Gegenwart und beleuchtet das Feld der Philosophiegeschichte aus weiblicher Perspektive. Noch bis 1993 war in keinem Philosophielexikon etwas von Frauen in der Philosophie zu lesen, wobei diese in allen Epochen ebenso vertreten waren. Die Wanderausstellung ist seit der Langen Nacht der Wissenschaft am 02. Juni 2018 im Erdgeschoss des Gebäudes 22 der Otto-von-Guericke-Universität Magdeburg zu sehen und kann noch weitere vier Wochen besucht werden. Der Dornrosa e.V. in Halle stellt die Wanderausstellung zur Verfügung.

Office for Gender Equality informs university public about equal opportunities

The BfG pursues the establishment of equal opportunities for equal participation of all university members in studies, research and administration, regardless of gender, through work in the committees of the OVGU, in working groups and networks within and outside the university, as an advisory centre for personnel matters in matters of equal opportunities and not least through the acquisition of third-party funding and the implementation of funding measures (cf. HSG LSA § 72 Equal Opportunities Officer).

In accordance with the requirements of the Higher Education Act, the Senate was presented with highlights from 2017 and challenges for 2018 with regard to equal opportunities.



>>>Detailed information on the status and perspectives of equal opportunities at Otto-von-Guericke University can be found here.
On Friday, June 2, 2017, Prof. Dr. med. Maike Vollmer's inargual lecture on the topic: Temporal Plasticity in the Deaf Auditory System Induced by Electric Cochlear Stimulation took place in the central lecture hall of building 22 on the Campus Universitätsmedizin.

Prof. Vollmer is the current holder of the Dorothea Erxleben Visiting Professorship. Using electrophysiological and neuroanatomical techniques, Prof. Vollmer investigates the influence of auditory experience and learning on the development and plasticity of neuronal signal processing in the developing and adult central auditory system. She is particularly interested in the effects of unilateral and bilateral deafness and in the development of stimulation and training strategies that enable targeted plastic reorganization and restoration in the neuronal processing of auditory signals. One aim of their studies is to develop clinically relevant concepts for hearing rehabilitation in hearing loss and deafness.

The event was opened by the rector of the OVGU, Prof. Dr. Jens Strackeljan. Subsequently, the Dean of the Medical Faculty, Prof. Dr. Hermann-Josef Rothkötter, spoke. Both found extremely esteeming words for the excellent research of Prof. Vollmer.

It was also made clear that equality measures, including the Dorothea Erxleben professorship, are valued as an important instrument for increasing the competitiveness and attractiveness of the OVGU at the level of the university management.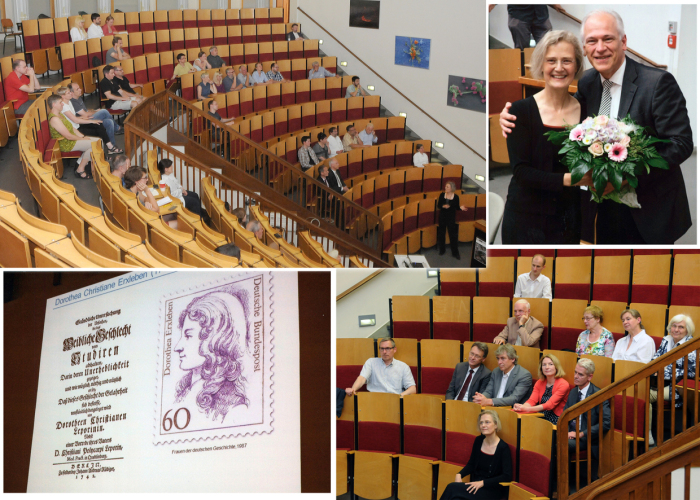 Inaugural lecture by Prof. Dr. med. Maike Vollmer
On Friday, 02 June 2017. Juni 2017, the inaugural lecture of Prof. Dr. med. Maike Vollmer, current holder of the Dorothea Erxleben Professorship, will take place:
Temporal Plasticity in the Deaf Auditory System Induced by Electric Cochlear Stimulation
Location: Zentraler Hörsaal, Haus 22 (Campus Universitätsmedizin) Time: 15:00 o'clock
The Dorothea Erxleben Visiting Professorship for the academic years 2017/2018 and 2018/2019 is currently being advertised. You can find the tender text here.
Closing event of the mentoring and coaching program MeCoSa 4.0:
The project team of the nationwide mentoring and coaching programme MeCoSa 4.0 invites you to the final event of the current round on 15.05.2017 from 15:30 hrs in the family house Magdeburg. All those interested in future project rounds are cordially invited to take part in the family-friendly event. To the invitation and registration it goes here.
New financial funding opportunities for (young) female scientists of the OVGU:

Post-doctoral bridge funding within the framework of the project "FEM POWER".
further information and hints for application here
Fund for the Promotion of Conference Trips and Research Stays
further information and hints for application here


The current call for applications for the Dorothea Erxleben Guest Professorship at the Otto von Guericke University in Magdeburg is currently open.

Interested female scientists can usethis Link to find out more about the call.

(Application deadline: 31 May 2016)

The Dorothea Erxleben Guest Professorship serves to promote female careers within the framework of university teaching careers. It is intended to open up opportunities for independent research and teaching at the university to the women who hold the professorship. The visiting professorship is awarded for a period of one year, from October to September of the following year for a subject represented at Otto-von-Guericke University.
3. FVST Ladies Night for Women in MINT

When: April 19, 2016, at 6 p.m.
Where: Max-Planck-Institut, Sandtorstr. 1, 39106 Magdeburg

The FVST Ladies Night for Women in MINT is initiated for the third time by the Faculty of Process and Systems Engineering. Students and doctoral candidates from the entire MINT field are cordially invited!
Further information: 3rd FVST Ladies Night
Book Presentation "Women in Saxony-Anhalt" - A Biographical Bibliographical Dictionary from the Middle Ages to the 18th Century

When: January 19, 2016, at 5 p.m.
Where: Ratsdiele the old town hall of Landeshauptstadt Magdeburg

On 19th January Prof. Dr. Labouvie presents her new book "Women in Saxony-Anhalt". The encyclopedia presents women from the Middle Ages to the 18th century who have rendered outstanding services to the region of present-day Saxony-Anhalt and beyond through their skills, commitment and creative power. All those interested are cordially invited. Registration to: yvonne.haensch@ovgu.de
Workshop on Feminism

When: January 15, 2016, 14 - 20 Uhr
January 16, 2016, 10 - 16 Uhr
Where: Campus Uni Magdeburg: Building 5, Room 307 - see page 2 of the Campus map

he workshop, organised jointly by the Office for Gender Equality and the Coordination Office for Women's and Gender Studies Saxony-Anhalt offers the opportunity to discuss current feminist issues and questions and to discuss whether and why a feminist attitude is still indispensable, regardless of whether women or men are involved. Further informations



The workshop is open to all interested parties and is limited to 25 participants. Participation is free of charge.
Please register by 10 January 2016!

Questions and registration please mail to morena.groll@ovgu.de
Lecture and discussion on gender equality policy and feminism

When: Dezember 9, 2015, 18-20 Uhr
Where: Conference Room of the Universitätsbibliothek, Otto-von-Guericke-Universität Magdeburg
Speaker: Nadine Frei (Soziologin M.A., Leipzig)

In the lecture "Feminism: Illegitimate, untimely and ugly? Antifeminist Resistances and Attempts to Delegitimize" will address why feminism and gender politics are by no means obsolete, but are under constant pressure to legitimize. Further information on the lecture can be found here.

The Office for Gender Equality cordially invites all interested parties!

Gender sensitive language

On 15 July 2015, the Senate of the OVGU decided to introduce a gender-sensitive language throughout the OVGU. The Equal Opportunities Office has now prepared a Handbook on this
Important survey on the subject of discrimination in Germany:The Federal Anti-Discrimination Agency, the Federal Government Commissioner for Migration, Refugees and Integration and the Federal Government Commissioner for the Interests of Persons with Disabilities jointly call for participation in the largest survey on experiences of discrimination ever launched in Germany.

The Federal Anti-Discrimination Agency's counselling experience shows that discrimination can occur in practically all population groups. People are discriminated against on the basis of their disability, origin, gender, skin colour or sexual or religious orientation. To date, however, there is no precise overview of the many experiences of discrimination suffered by people in Germany.

The data collected will be made available to the public in 2016 and will be included in the report to the German Bundestag, which the Federal Anti-Discrimination Agency and the Federal Government Commissioner will submit in 2017. The report also formulates recommendations for political and practical action.
You can reach the survey via this Link and on the right in the marginal area of this page.
The survey is available in seven languages.
Please note that participation is only possible until 30 November 2015.

If you have any questions or comments, the BfG will be happy to help.
On March 17, 2015, the start of the COMETiN-Program 2015 will take place at 5 p.m. in the Lukasklause, which will mark the start of the current COMETiN round as well as the end of the second round. The event thus marks the smooth transition from the second to the third round of the programme by saying goodbye to the current mentees and symbolically handing over the baton to the following participants. In addition to the joint exchange of experience, the role of mentoring as an instrument for promoting the careers of female scientists will be at the centre of the discussion. The exact course of the evening can be found here


The MAKE MINT! Exhibition can be visited on 02 November 2015 as part of the "Family here and today" specialist day at the Merseburg University of Applied Sciences. It is a cooperation project of the Koordinierungsstelle für Frauen- und Geschlechterforschung Sachsen-Anhalt and the Büro für Gleichstellungsfragen der OVGU.