Theater "Geschichten aus der Stadt" to One billion rising
About female sexuality, dealing with one's own role models, female solidarity and being a reflective woman
What: Theater and performance, followed by a panel discussion

When: Feb. 15, 2021 at 7 p.m.

Where: Online
Every year on February 14th, various events take place around the world as part of One Billion Rising. The annual campaign mobilizes people worldwide to show solidarity with women affected by violence. On the occasion of this year's One Billion Rising, OVGU's Office for Gender Equality will host the theater performance "Geschichten aus der Stadt: Über weibliche Sexualität, Umgang mit eigenen Rollenbildern, weibliche Solidarität und ein reflektierendes Frausein" in an online format one day later, on February 15, 2021 at 7:00 pm.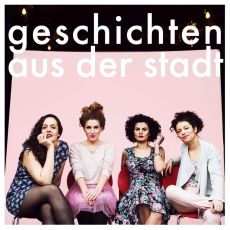 The performance series "Geschichten aus der Stadt" was created in 2015 by four theater educators. In continuous episodes, the four friends work on the topic of female sexuality, dealing with their own role models, female solidarity and being a reflective woman*. Since then, more than 20 performances with over 2,000 spectators have taken place in Berlin, Hanover and Halle (Saale) as well as at the Fusion Festival. The lustful narration of intimate moments, concrete sexual acts and encounters are an integral part of the performance format. So is the open reflection of individual confrontation with one's own sexuality and gender roles. Why is sexualized and sexual violence against women still acceptable? How and where do we experience gender discrimination? How do we deal with these violent experiences? What expectations of my gender do I want to fulfill? And do I have myself? What do I like about sex? How can I put it into words? How can I give myself a nice orgasm? Does anyone mind the hair on my inner thighs? Why do we always have to talk about using condoms? The content of the now 10 episodes is all biographical. Both autobiographical experiences of the performers and stories and experiences, collected in the circle of acquaintances and spectators of the four, find their stage in the performances.
Stories are told that every woman* knows, that actually surprise no one and yet for which there are hardly any words: Experiences of sexualized discrimination, sexual harassment and violence at the study and workplace.
The stories from the city tell of being reduced to one's own gender, of being seemingly naturally ignored, of professors for whom gendering is too strenuous or of those who "can't keep their hands to themselves" and of how women* have been made responsible for their own protection since childhood and how the perpetrators are still protected by society. In this theme evening, stories from the city struggle to find words for the freezing, the belittling, the creeping recognition, for the cutting off of air, the fear and the futile search for support of those affected.
No woman is alone in her experience, many share the same thoughts and the same fears. Hearing them from a stage of pride and pleasure diminishes their negative power, the shame and fear, and gives them a new quality, solidarity, strength and not least humor. In this very effect the intention of the performance collective is found: to lend their voice to women's stories, to make them audible and thus to connect with the audience and to make speaking about sexuality, gender and related needs possible.
Concept and performance: Ellen Uhrhan, Matin Soofipour, Géraldine Mormin, Karoline Schulze.

The event is part of the worldwide action "One billion rising". Further information about the artists can be found here.

You can access the event directly via the following link:

Access link: https://ovgu.zoom.us/j/99612180333
Meeting ID: 996 1218 0333
identification code: 105903